Welcome!
Are you interested in knowing how English is really spoken but don't have the time or resources to do anything about it? Then help is at hand. My aim is to help you become a better speaker. So, let's see what my course called 'Everything's Connected' has to offer. It's a course in British English connected speech and pronunciation. It has been created for non-native English speakers who want to improve their speaking skills and pronunciation.
In fact, I have a lot of respect for non-native speakers who speak and pronounce English well. I can imagine how difficult and long this road must have been. I can help you on that road and it doesn't have to be that long. You too will be able to speak more fluently and have an improved understanding of how English is really spoken, by the end of the course.
So, ask yourself these questions.
Do I need to improve my fluency and understand how native speakers really speak?
Do I need to have a better accent and sound more natural?
Do I want to know how native speakers speak so quickly, and be understandable at the same time?
Do I want to become a more confident speaker, and stop making the errors I have made for so long?
Do I want to find out more about the phonemic script and how it works?
Do I want to find out exactly what connected speech is?
If you answered "yes" to two or more of my questions, then this course is right for you.
Now, all you have to do is click on the orange 'Find Out More' button above and it will take you to the Sales Pages for 'Everything's Connected' where there is more information on the course.
One more thing...you can view the course outline below and it gives you a summary of each module.
I hope to see you there and enjoy the course!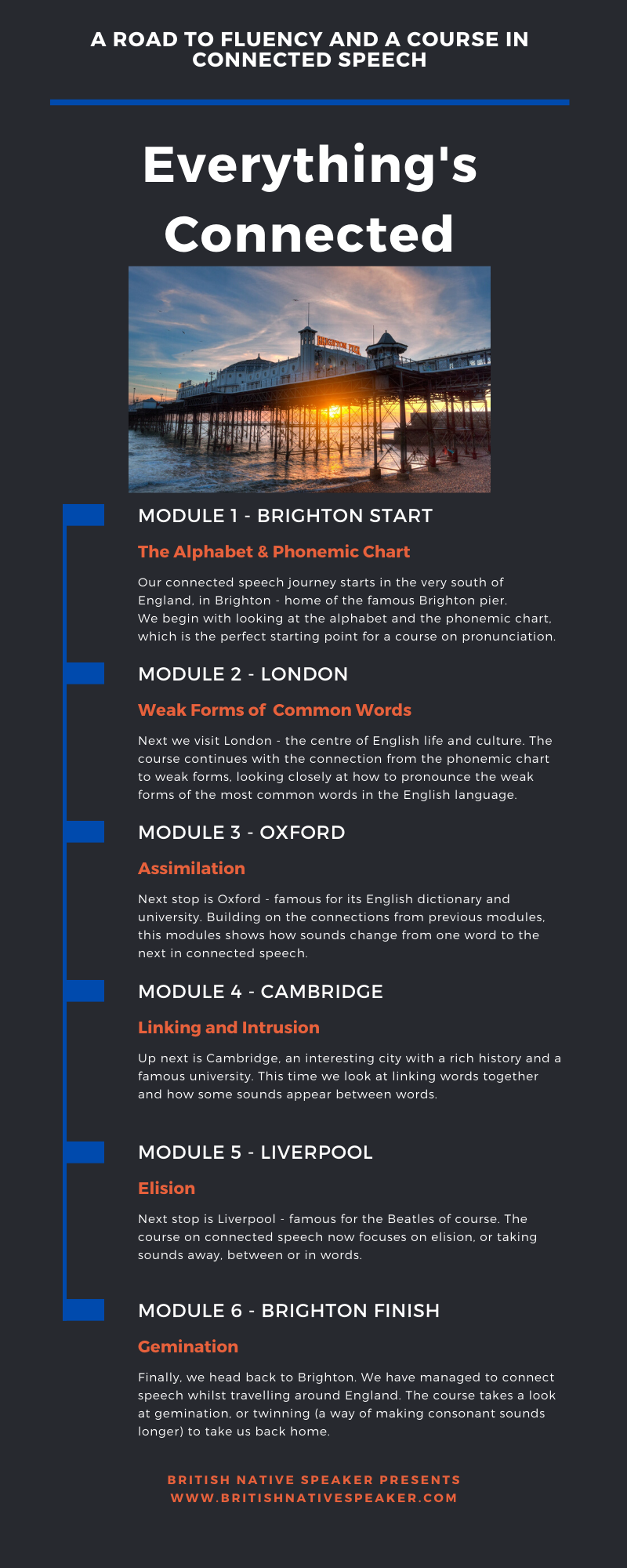 Testimonials - what former students have said:
"Lots of extra motivating techniques were introduced so that, all the time I felt 'forced' to work (in the positive meaning of the word)."
- Halina.
For more testimonials, please visit my website testimonials page at the following address: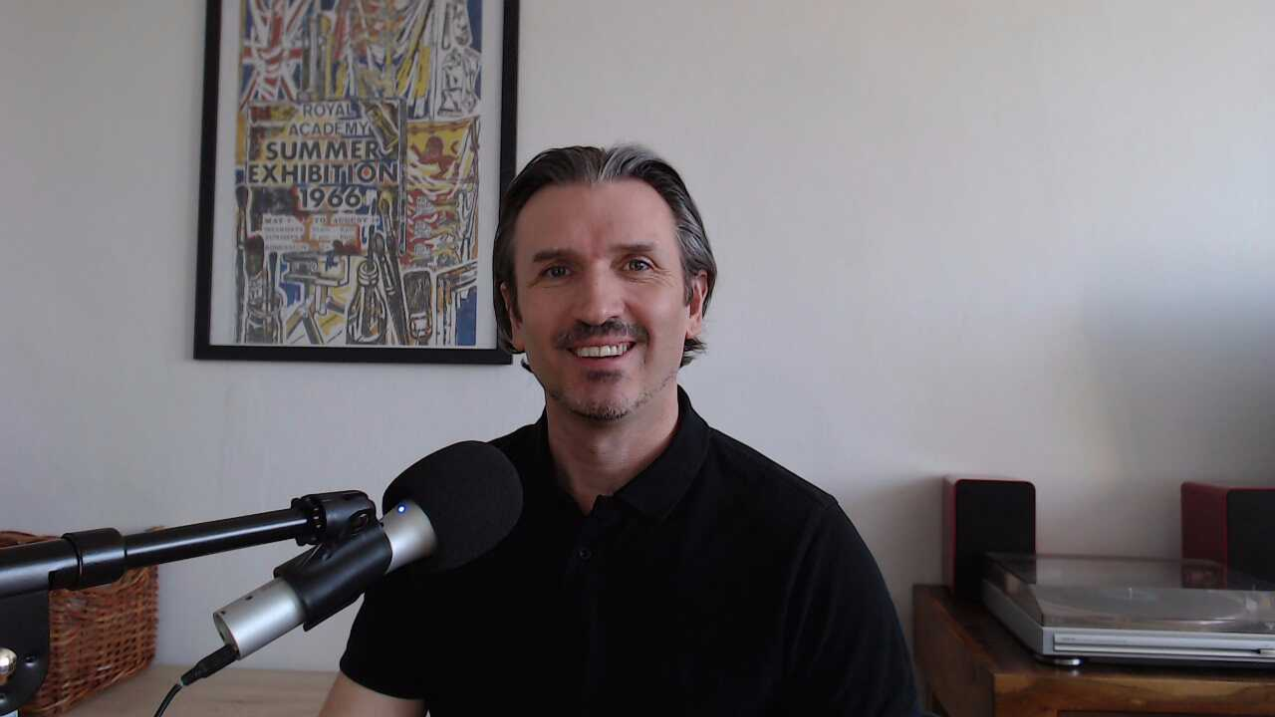 Meet Jon, your instructor.
Hi! I'm a speaking instructor and freelancer, who uses multi-media to create projects. That's why I thought it would be perfect for me to create online courses. My passions are doing voice-overs and anything connected with recording and sound. I'm also a musician and love listening to music. So, in fact, everything's connected when I make videos.
About my origins - I come from the UK, near Brighton, you could say Brighton is my soul town.
Frequently Asked Questions (FAQs)
Why do I need to learned connected speech and pronunciation?
Firstly, speaking is the one skill that most people would like to improve in language learning. Whether you are trying to get a better job, pass that speaking exam, talk with friends, or have meetings with colleagues, being fluent in speaking boosts your confidence and chances of succeeding. You need to be understandable, and you need to understand others.
Let's say you are having a conversation with a native speaker, and they are speaking quickly and telling you about themselves. Then they ask you for your opinion. By knowing about connected speech, chance is, you will understand what they are saying much better, and then you can answer confidently and with the knowledge that they will understand you.
The theory is that you go from learning sounds to words to connected speech, and this is the foundation of the course I've created. Apart from the theory, it is also a lot of fun too!
Apart from speaking, what other skills will be featured on the course?
Yes, the course is a speaking and pronunciation course, but there are other skills involved too. You will need to do a lot of listening. Listening to me, and yourself. There is some reading involved, whether it is reading the video subtitles, or studying the worksheets and quizzes. Many lessons have a context, e.g. books, and you will learn words and phrases connected with those subjects too. You will also discover some interesting phrases in British English. I'll say no more!
What accent will I learn and what kind of English is featured on the course?
This course features British English. Many of the features of connected speech can be used in all kinds of English, however. Now, I have a standard British accent, but the way you speak is your choice. There is no right or wrong accent, and it is what you feel comfortable with. Remember as well, this is not a course where you will learn the Queen's English. It is not about speaking perfect English, it is about speaking real English.
What should my level of English be to get the most out of the course?
I would say that the course is best for English level CEFR B2 (upper-intermediate) students. However, if you are lower or higher than this, it should be fine. It starts with the basics and gradually gets more challenging.
When does the course start and finish?
It starts as soon as you buy the course and has no time limit.
How much time will it take for me to notice the difference in my speech?
Difficult question! Improving speaking is a gradual process, but you should hear results immediately by focusing on some of the sounds on course. Simply by concentrating on changing your speech patterns a little, you should notice a difference. You will also need a lot of repetition of some sounds and techniques so that they sound more natural.
What do I get as part of the course (including additional benefits)?
1.You will be part of an exclusive Edmodo private class. This class is set up ONLY for those students who have bought my course 'Everything's Connected'. What's Edmodo? Edmodo is a virtual classroom. You can ask me questions and I can post materials, quizzes and other media in the virtual space. You can post as well of course! You can also comment after each lesson on the platform itself.
2.You will be able to record your speech at the beginning of the course, and at the end of the course, and I will assess your 'before' and 'after' performance. This is most important to see your improvement, or how your speech has changed. A link will be provided, so that you are able to do this.
3.Materials – All materials are downloadable. The videos have subtitles, in-video text and some have images as well. Worksheets are available for many of the videos, as well as quizzes and texts, before or after the videos. Plus, you will receive an exclusive 'Everything's Connected – A Guide to Pronunciation and Connected Speech in British English' guide for the course. This is an e-book which complements the course, and summarises each module.
Do I need to understand the phonemic script before I start the course?
No! I explain everything you need to know about the phonemic symbols and chart. Individual sounds are focused on at the beginning of the course.
Do I need to know what connected speech is before I start the course?
No! I explain the most important areas of connected speech with lots of everyday English examples and easy-to-understand explanations.
Why is it a paid course and not free?
1.One reason is it is not freely available on the internet is that it is a multi-media course and would be difficult to put together randomly. The platform provides a lesson-by-lesson approach and all materials follow logically on from one another. All lessons are well organised and materials are easy to download.
2.Not much is published on connected speech and because of the way this course has been designed, it is very much a unique course, which adds to the course's exclusivity. Also, the course is great value if you take into account how much you would pay for a one-to-one lesson on pronunciation.
3.It is a way for me to earn extra income, and it's my job. I'm not only a native speaker of English, but also an experienced and highly qualified instructor.
What happens if I start the course and it is not suitable for me?
There is a 30 day money back guarantee on the course. However, if you read the course outline, sales page and FAQs, then you should have a good idea whether this course is good for you. You will need to show me that you have participated in the course, until the point that you realised the course was not for you.